So...
The number one thing I miss the most since I've started eating healthier is Pasta. I am a pasta addict. I love it. I could eat it for every meal and not get sick of it. I would gladly glutton myself with any kind of pasta with just a touch of butter and Parmesan cheese.
Truly, nothing in this world is more appealing to me than this...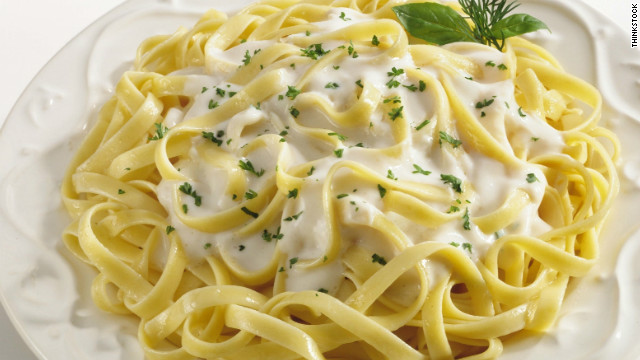 MMMmmm Pasta.....
So, I know pasta is my weakness. I am incapable of only having one serving. I can stay away from copious amounts of ice cream, and cakes, and cookies, and potato chips, and deliciousness of that nature. But put some cooked pasta in front of me and I will stuff it into my mouth hole to the point of getting sick. This is why I avoid it as much as possible. I'd rather eat it at a restaurant (like Olive Garden) where I'm given a set amount, than make it in my house and consume my weight in it.
Enter the Spiralizer... I've been reading a bunch of "weightloss" recipe blogs and have come across the idea of Zoodles, or zucchini noodles, quite a few times. I like zucchini, so I thought I'd give it a try.
I bought a Paderno Spiralizer on from amazon here and it came within 2 days (gotta Love Prime). Oh, by the way, I'm not a paid tryer outer person. I don't know how one does that, but I would LOVE to do that! If you, the fictional person reading my blog are someone who tracks who links to your website put me down! I would gladly be a tryer outer person! :)
Anyway. It came in the mail Monday, and I tried it out on some radishes first, on my mother's insistence, and it worked great! Now, I hate radishes, they taste like spicy dirt, but my mom said they were good! So, I was encouraged to try it on some zucchini...
It was super fun! Like you put the zucchini on the thing and spin it around and big long strands of Zoodles come out!! Like Super Really Long NOODLES!! Now I'm not demented, really, so I know they're not actually noodles. They are vegetables parading as noodles. But, with the yummy Italian turkey sausage marinara I made, I was almost fooled. I mean, look at these:
Oodles of Zoodles....
They were super tasty and you could twirl them around your fork just like regular pasta. Plus, I like zucchini with tomato sauce. It was totally enough to satisfy my pasta craving. Hubby loved it too, he ate most of it. So, no leftover for me :(
The next night I had to try it again, and decided to make Sweet Potato Noodles. So I made Sweet Potato Lo Mein with Teriyaki Chicken. I must say, the sweet potatoes weren't as easy as the zucchini. But, I tried cutting in half and that worked out great. I loved them. Hubby said they were too sweet, but I did make homemade teriyaki sauce, and probably put more brown sugar than I needed to. Oh well, there's always next time. But, they sure looked delicious!
So, right now I am in love with my spiralizer and want to use it on everything. Hubby was wondering if it would be possible to spiralize cheese. I intend to find out. So, for now: